(04) Asylum Con. (Jensen, Jared)
(21) Supernatural (season 3, 4)
(13) Smallville (Chloe/Oliver)
(07) Headers (Chloe/Dean, Chloe/Oliver)
(01) Wallpaper (Chloe/Dean)
(02) Manips



( the rest... )

The convention was great, wonderful, amazing...I think the panel q&a's were even more fun than last years! It really was a wonderful experience. One of the many memorable moments for me was when someone asked Jensen that we all knew how hard they've worked on this show so what could we, as fans, do for them. And he said something like just keep doing what you're doing. Watch the show, show your love-like at conventions like this and that wearing a t-shirt with his face on it (like the fan was)...that was gratification enough!
A little-ish report on my photo-ops and autographs with Jensen & Jared, and some pictures...mostly, a lot of fangirl squeeing. Just a fair warning. :)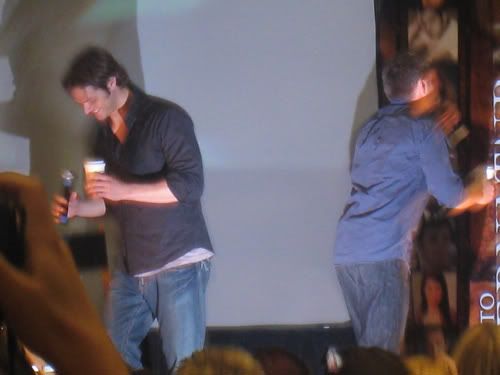 *Jensen singing and dancing away as he left the stage*
( follow the dancing man )

Went to my first Supernatural convention! I didn't think it was possible but I'm even more obsessed now. My friend asked me if they looked better in person and I said "YESSS!" A little depressed my pictures were all super-blurry but I was in a crazy happy/in awe/speechless state whenever I saw Jensen and Jared so I didn't really pay that much attention when I was taking the pics. I was even more depressed when it was all over and seriously considered buying a ticket for their next convention.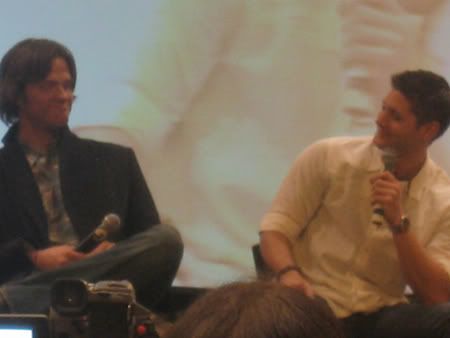 ( only click here if you don't mind looking at some blurry pics :) )